GIC Berenike Ashabelle*PL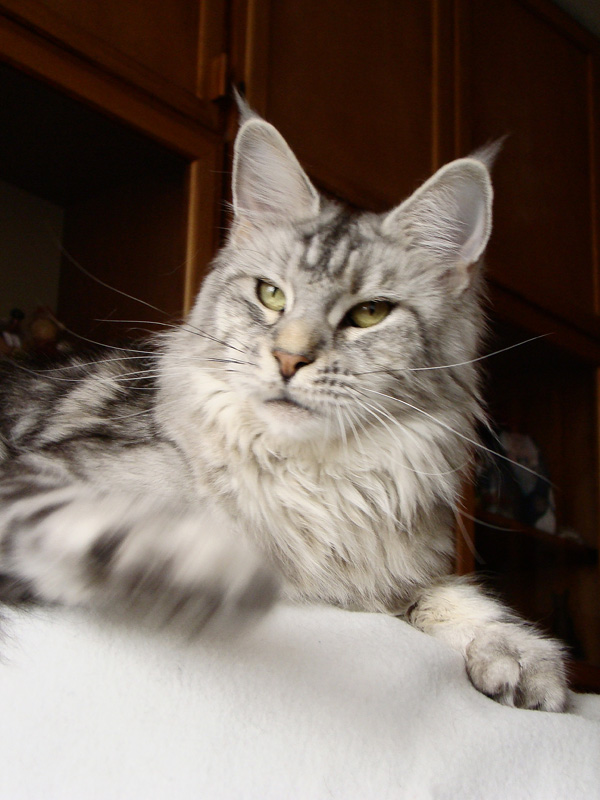 2/8/2008
MCO ns 22
HCM: N/N
Berenike je zakladatelkou našeho chovu a jsme za ni a důvěru moc vděční Marii a Anně z chs Ashabelle*PL.

Berenike je matkou vrhů A, D a E a v tuto chvíli je již kastrovaná.

Berenike is founder cat for our breeding and we are so glad for her and the trust which Maria and Anna from cattery Ashabelle*PL gave us.

Berenike is mother of litters A, D and E and is neutered yet.
Pedigree
GIC D*Summerplace Washington
Q´s Blue Bear of Magic Love
Eyck from Glowing Eyes
Timberhill Madras
Svenja wom Aldwaser
DK*Mountaineers Pink´n Ink
Belushie´s Utah
Shanty´s Autumn Bliss
D*Summerplace Panthera
PL*Top Coon Caruso
ZZ Top of Gentle Lions
Anya Avica Wiktoria Top Coon
DK*Champagnes Beauty
Coonmania´s H. Lucas
Shanty´s Dancy F.
IC Nice Surprice Aspenville*PL
Pillowtalk Nando
DK*Rushcutters Breave Heart
Thunderball´s Zabatini
Love Hulens I´m The Wild One
N*Eldons Afrotit
Koontucky Prince of Norway
Ratoyena´a Dilema
And Only One Belmicoon*PL
Timaracoons Arlington
Arctic Coon´s Pavaroti
Super Star´s Odessa
Langstteichs R´Dessert Rose
Langstteich´s P´Replay
Langstteich´s M´Deja-Vu
Shows
6-10 month (11)
17.5.09
EX 1
Most, Czech
MILCENT
Open (9)
6.6.09
CAC, BIS NOM.
Příbram, Czech
Berta NĚMCOVÁ
13.6.09
CAC
Bratislava, Slovakia
Elisabeth STEINHAUSER
12.7.09
CAC
Ústí nad Labem, Czech
ZUURVELD
Champion (7)
X.3.2010
CACIB
Bratislava, SK
A. SJODIN
17.4.10
CACIB
Ostrov, CZ
Marie ŘÍHOVÁ
24.4.10
CACIB
Ostrava, CZ
Martin KABINA
Inter Champion (5)
15.5.10
CAGCIB
Most, CZ
Francois MILCENT
16.5.10
CAGCIB
Most, CZ
Luis COSTE
5.6.10
CAGCIB
Příbram, CZ
Rolf VOEHRINGER
6.6.10
CAGCIB
Příbram, CZ
Soňa IVANKOVÁ
12.6.10
CAGCIB NOMINACE
Bratislava, SK
Dietmar SAGURSKI
10.7.10
CAGCIB
Gera, DE
B. BUSSE
26.3.11
CACS
Ústí nad Labem, CZ
Berta NĚMCOVÁ
26.3.11
CACS
Ústí nad Labem, CZ
Berta NĚMCOVÁ
27.3.11
CACS
Ústí nad Labem, CZ
Alesandro DI CHIO