News!
Nelly Ness family cattery is bigger family dedicated to maine coon cats. On this pages you will find out more about our maine coon cats and their successes on shows.
18/12
2016
Available girls
While Christmas are comming soon ... it tempted me to make a christmas theme photoshooting. Soon I will update or post all pictures, but now I just want share our available girls from litter N and O.
If you are interested, don´t hesitate to contact us on nellyness-mainecoon@gmail.com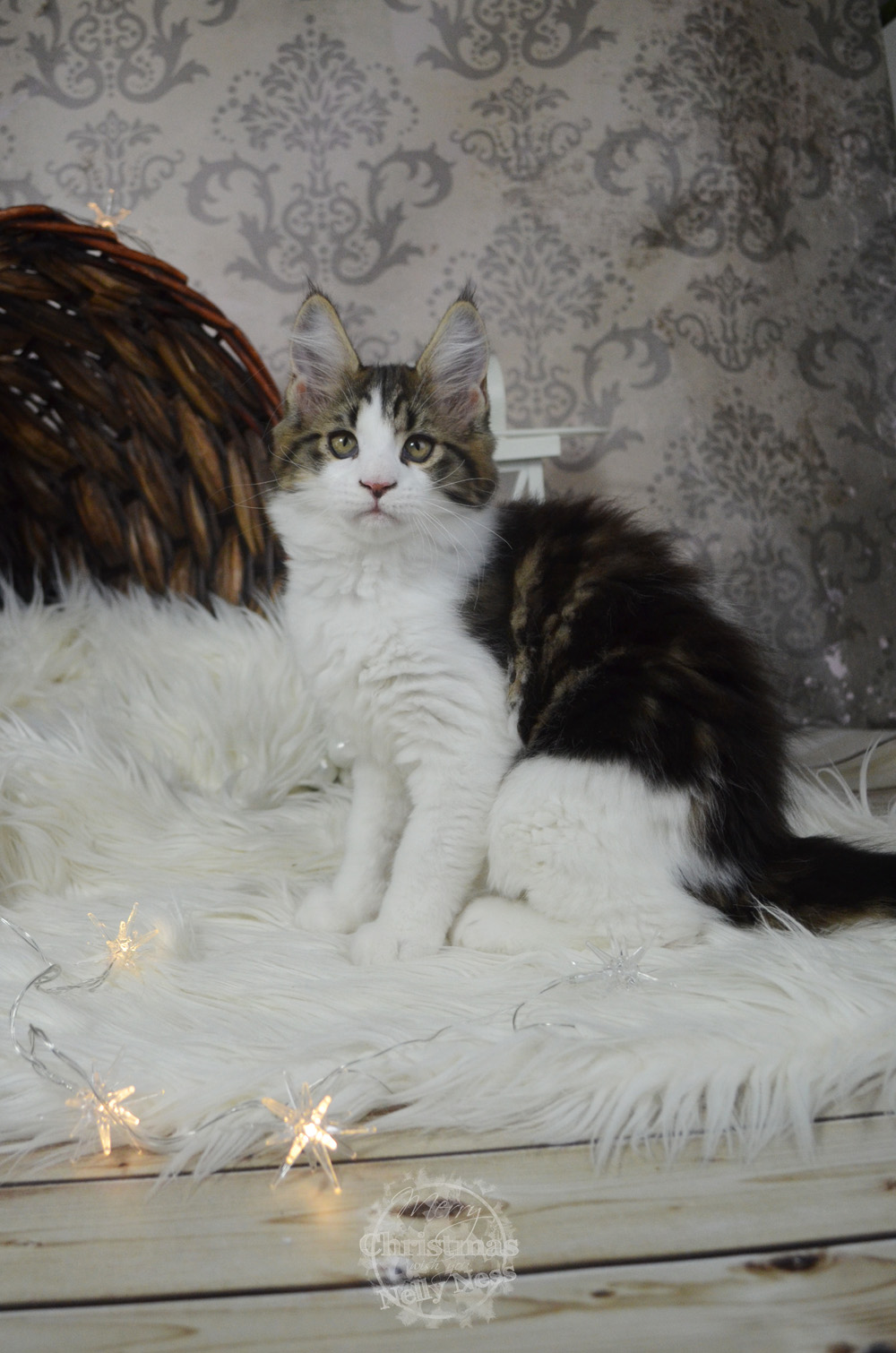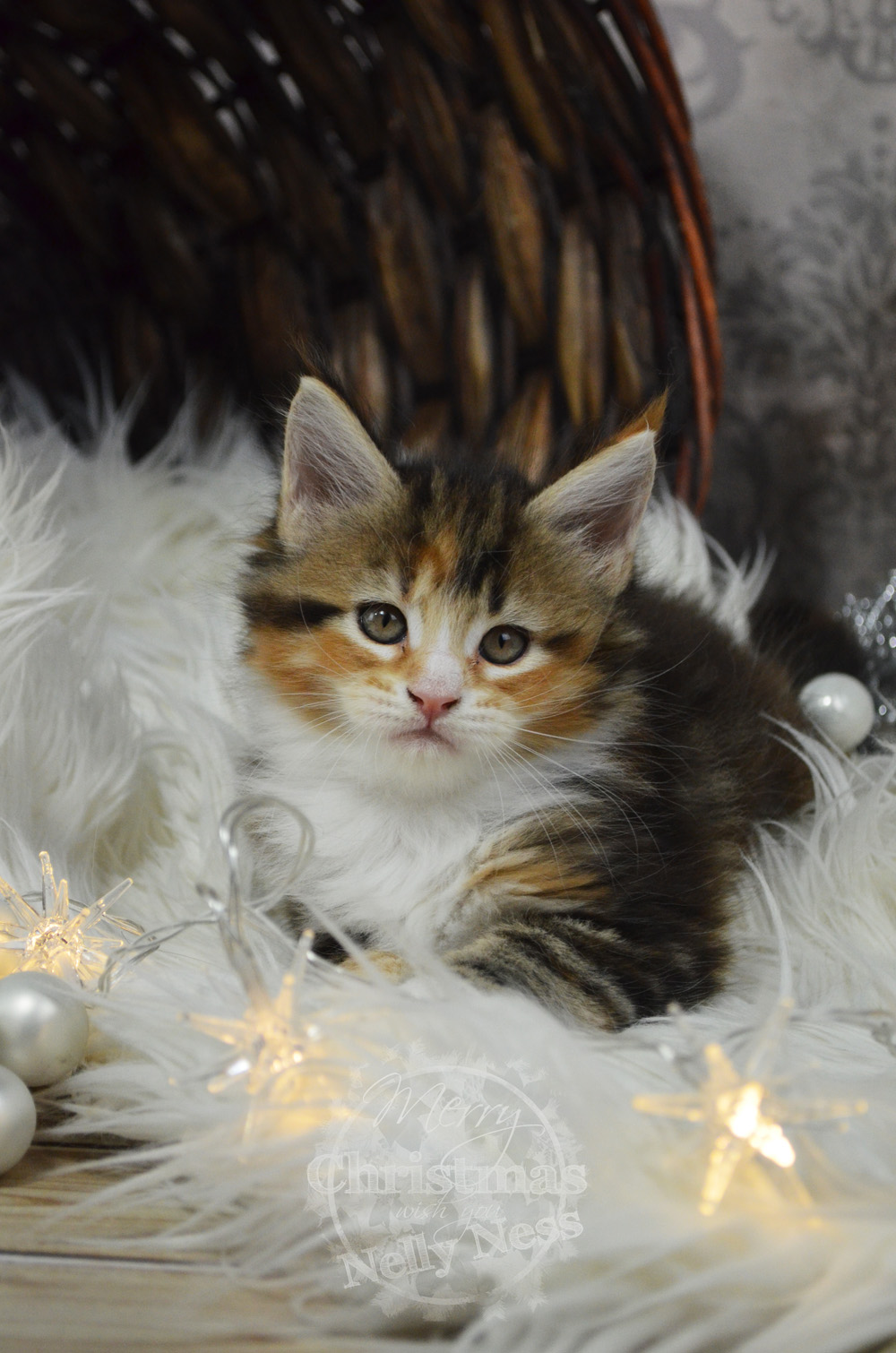 13/11
2016
Litter N and O
It should look that nothing happend in some time in our cattery, but the oposite is true ... just little bit lazy autumn and I didn´t share our latest furry balls here ... but now its that time!

So now you can see in Kittens our newest additions. In this moment are available two boys from litter "N" and red boy from litter "O", but girls should be available later, so If you are interested, just drop us message on nellyness.mainecoon@gmail.com

And here are some our furry balls!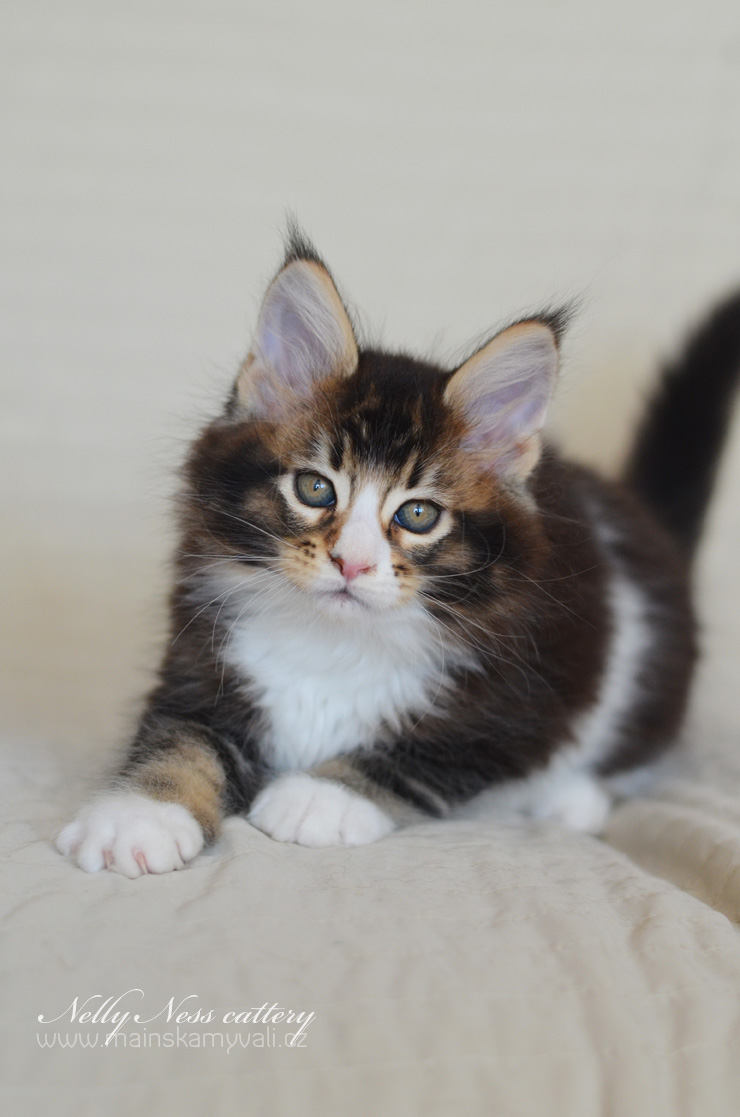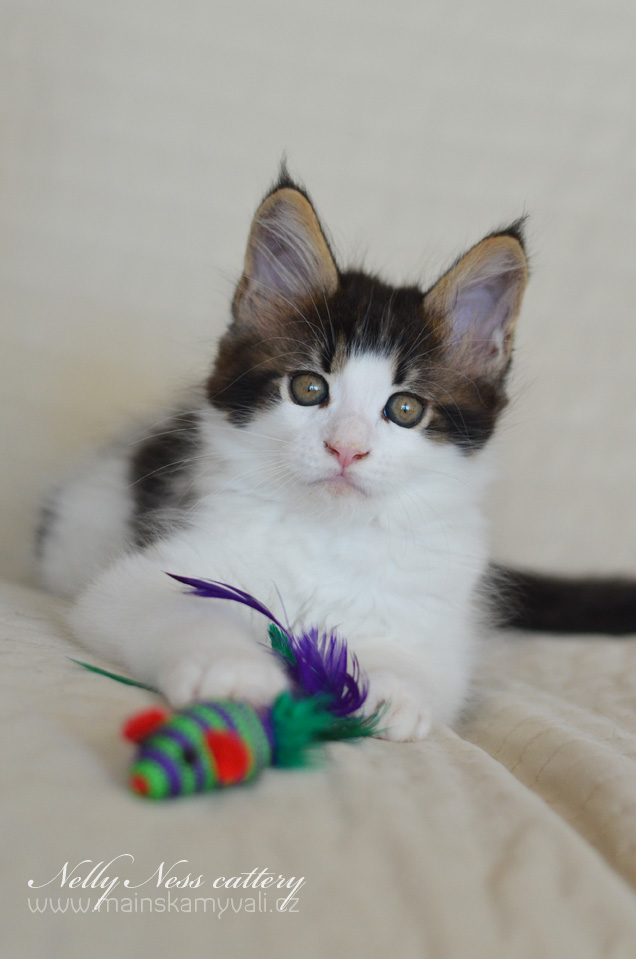 20/12
2015
Merry Christmas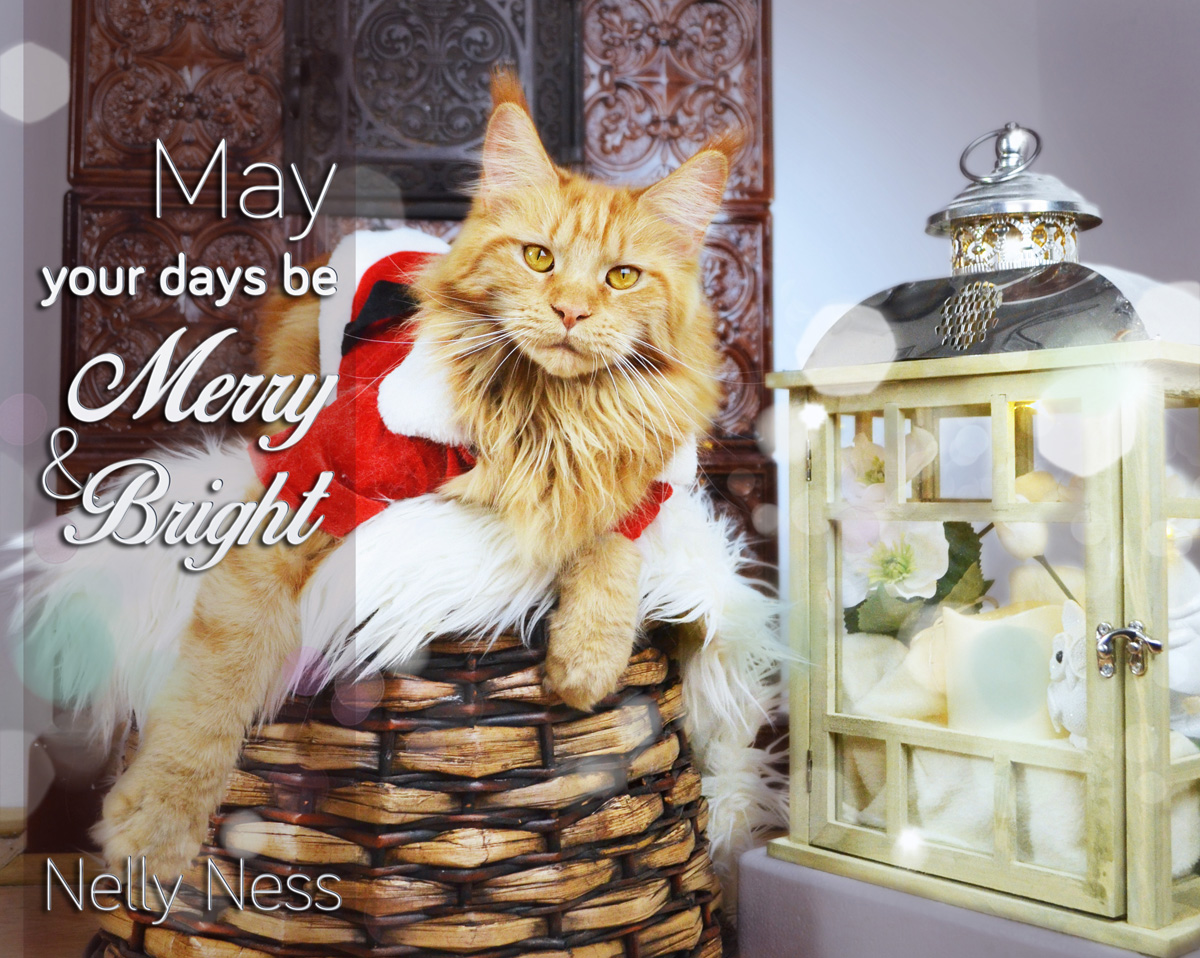 31/12
2014
Merry Christmas and Happy New Year 2015!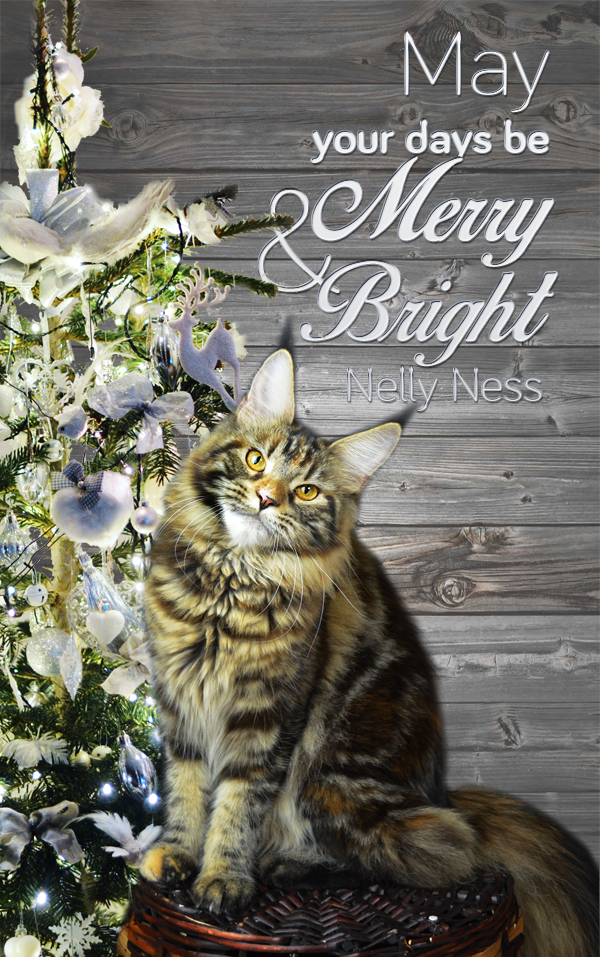 9/11
2014
Kittens celebrate their 10 weeks!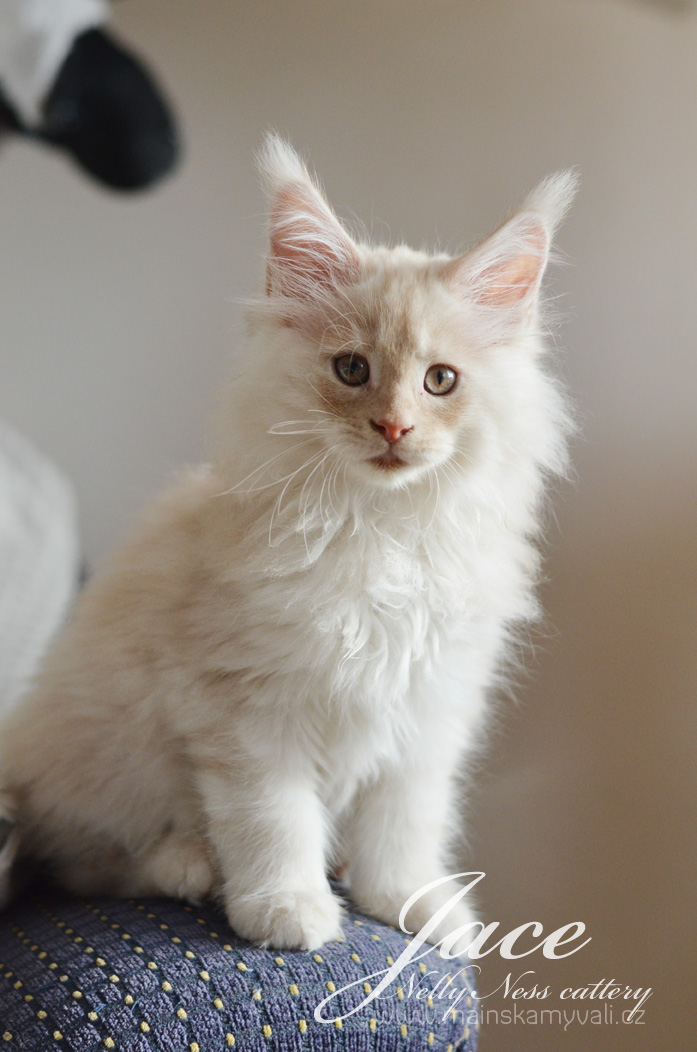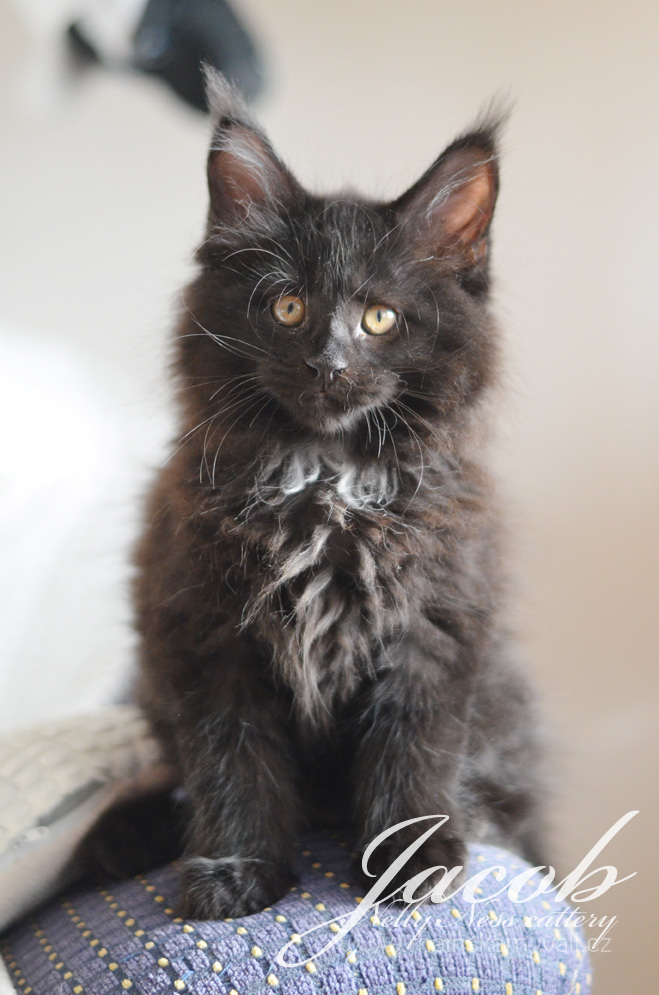 13/10
2014
Litter J have a new pictures!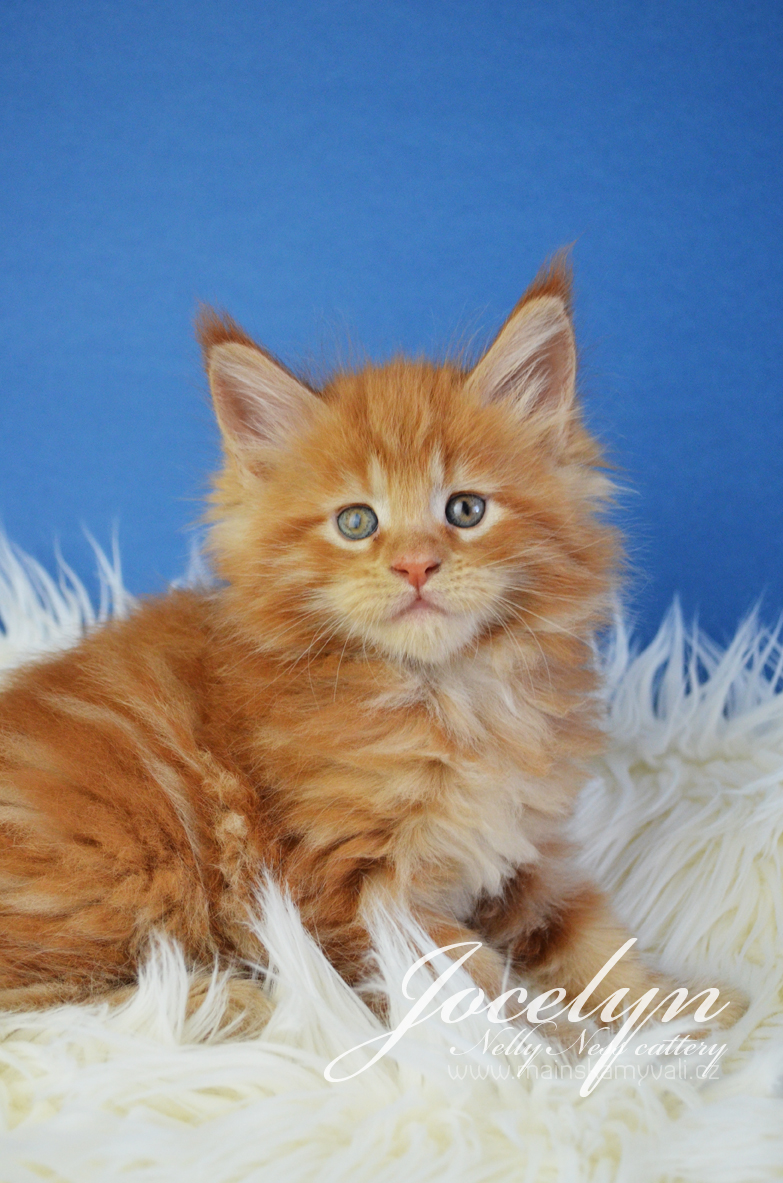 16/3
2014
Hyacinthos - available
16/3
2014
Independent Flower - available
13/1
2014
Available girls - litter "I"
Time is very fast and I´ll be glad to introduce that our lovely Irresistibel Beauty and Independent Flower are available.

They´re parents are GIC Alastor of Grand Royal*CZ JW DVM and La Rein Imagine Glamour*CZ
For more info and pictures write us on email nellyness.mainecoon@gmail.com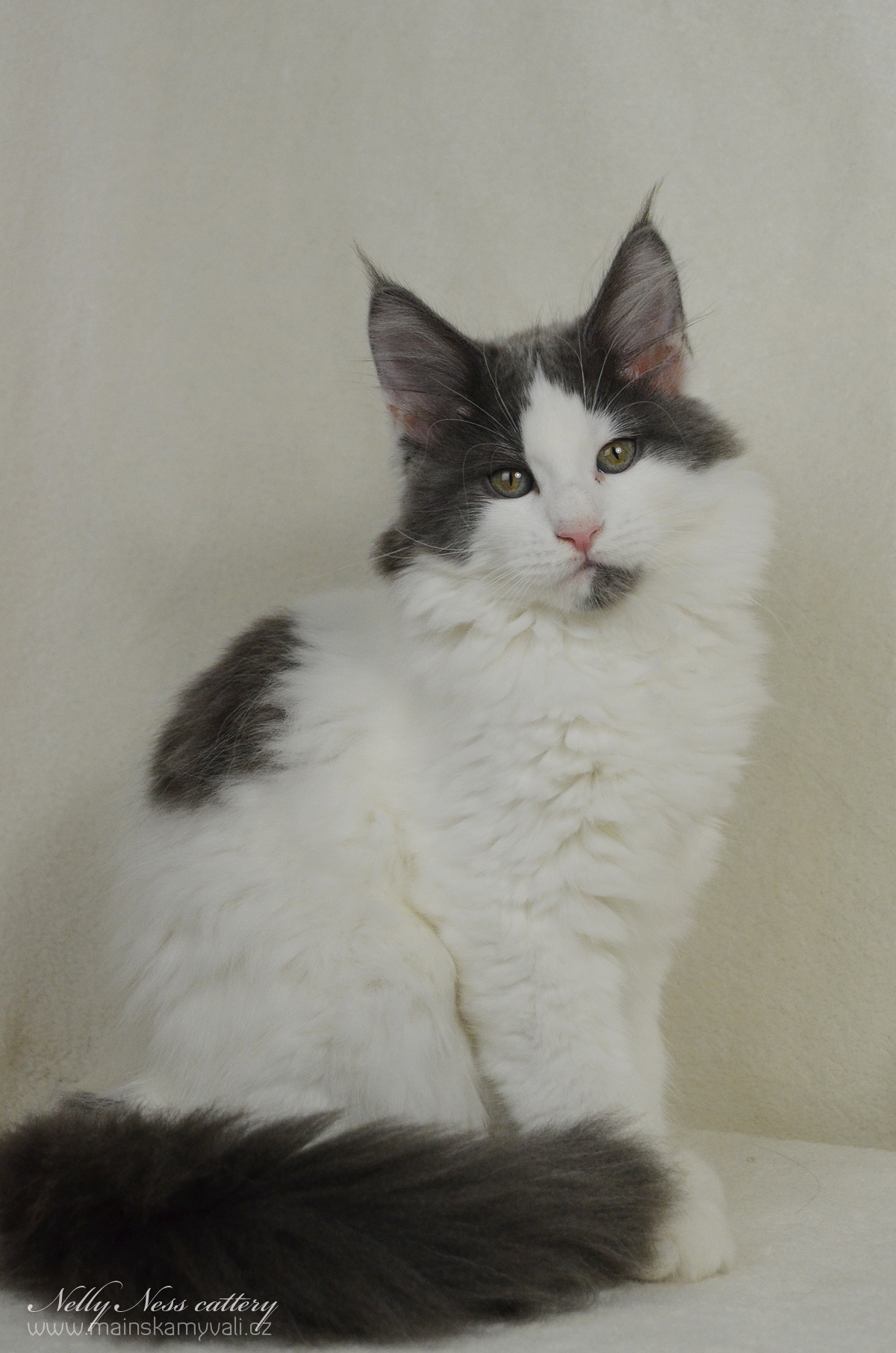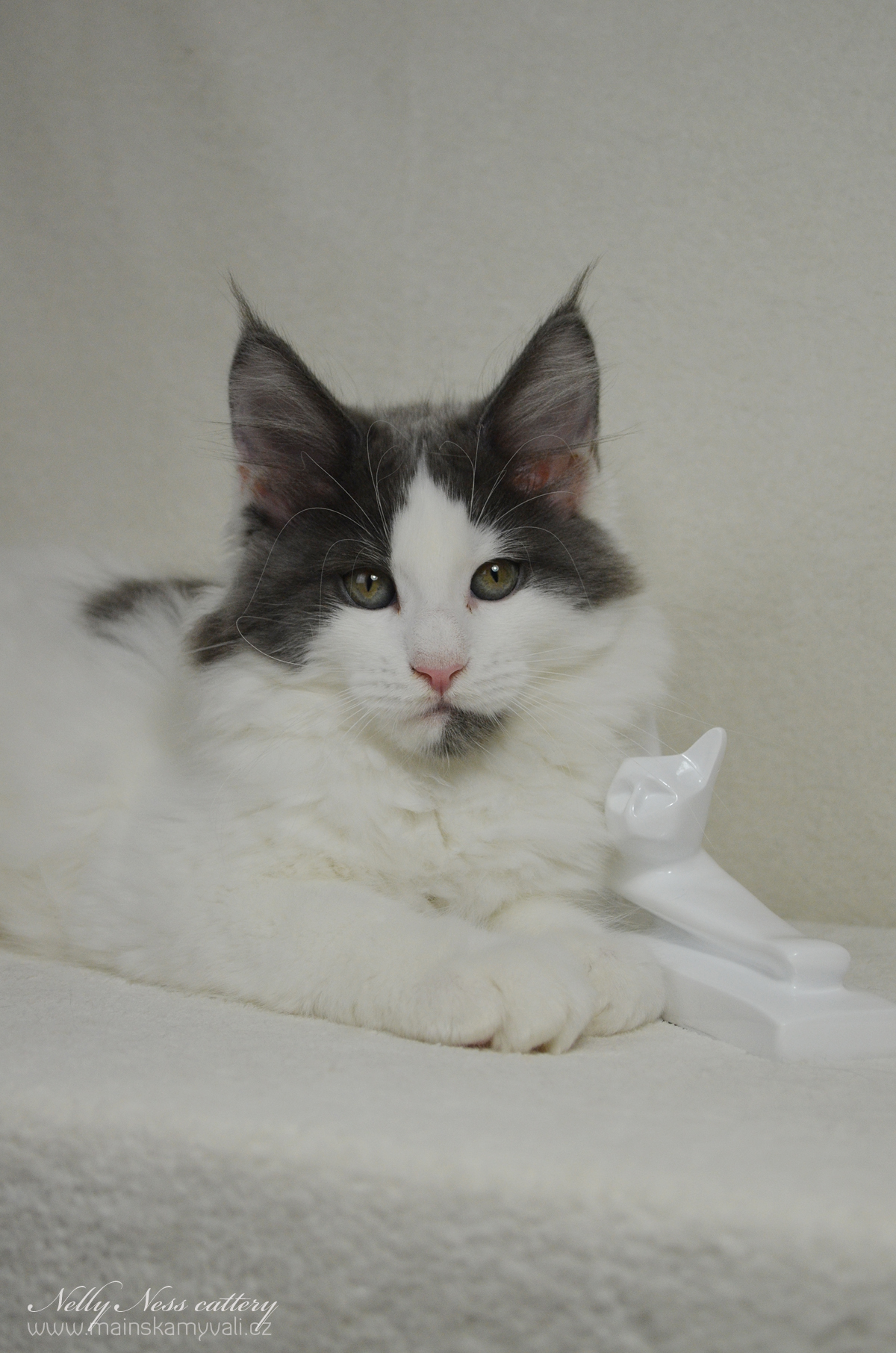 Irresistible Flower
girl a 02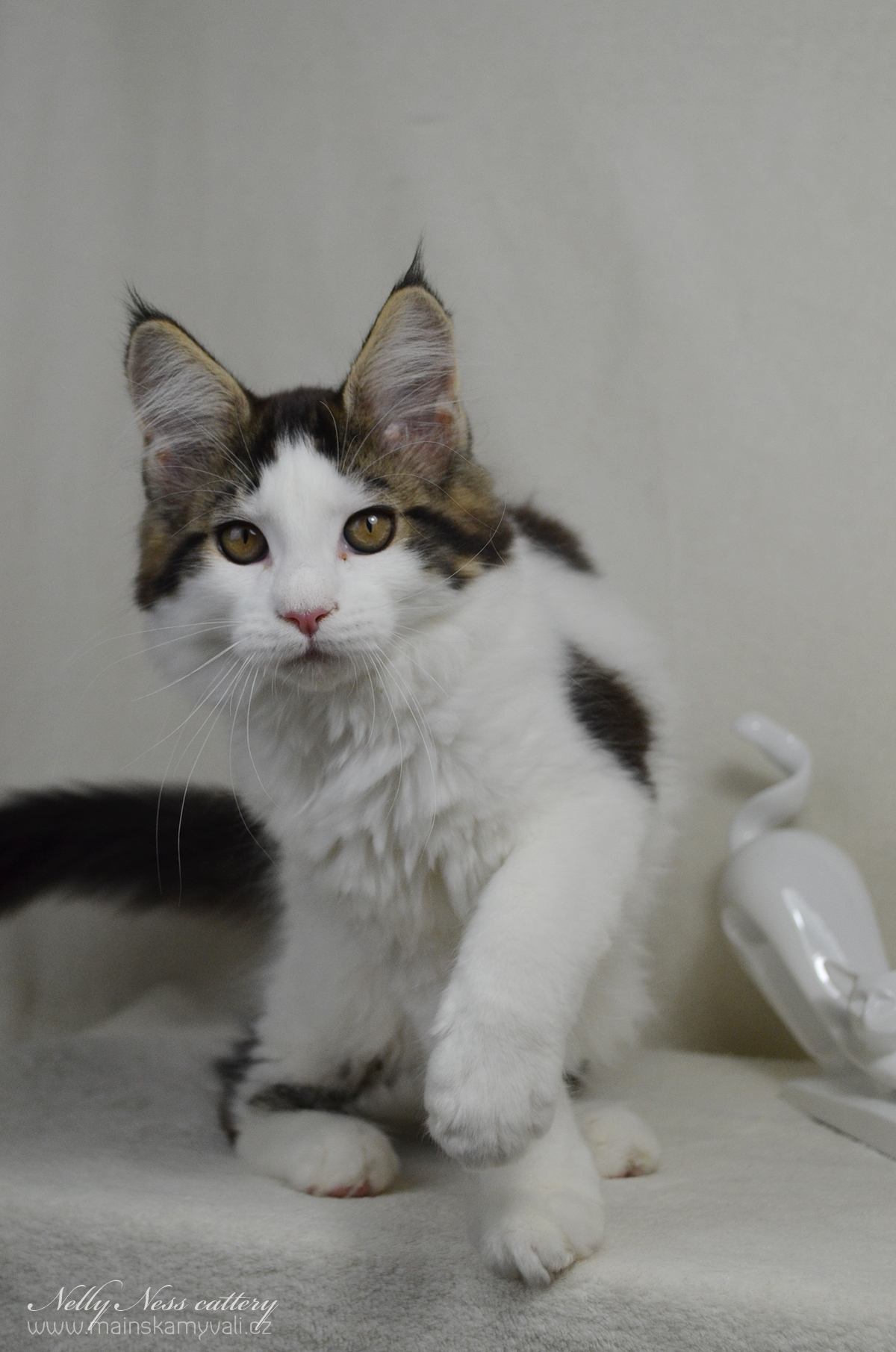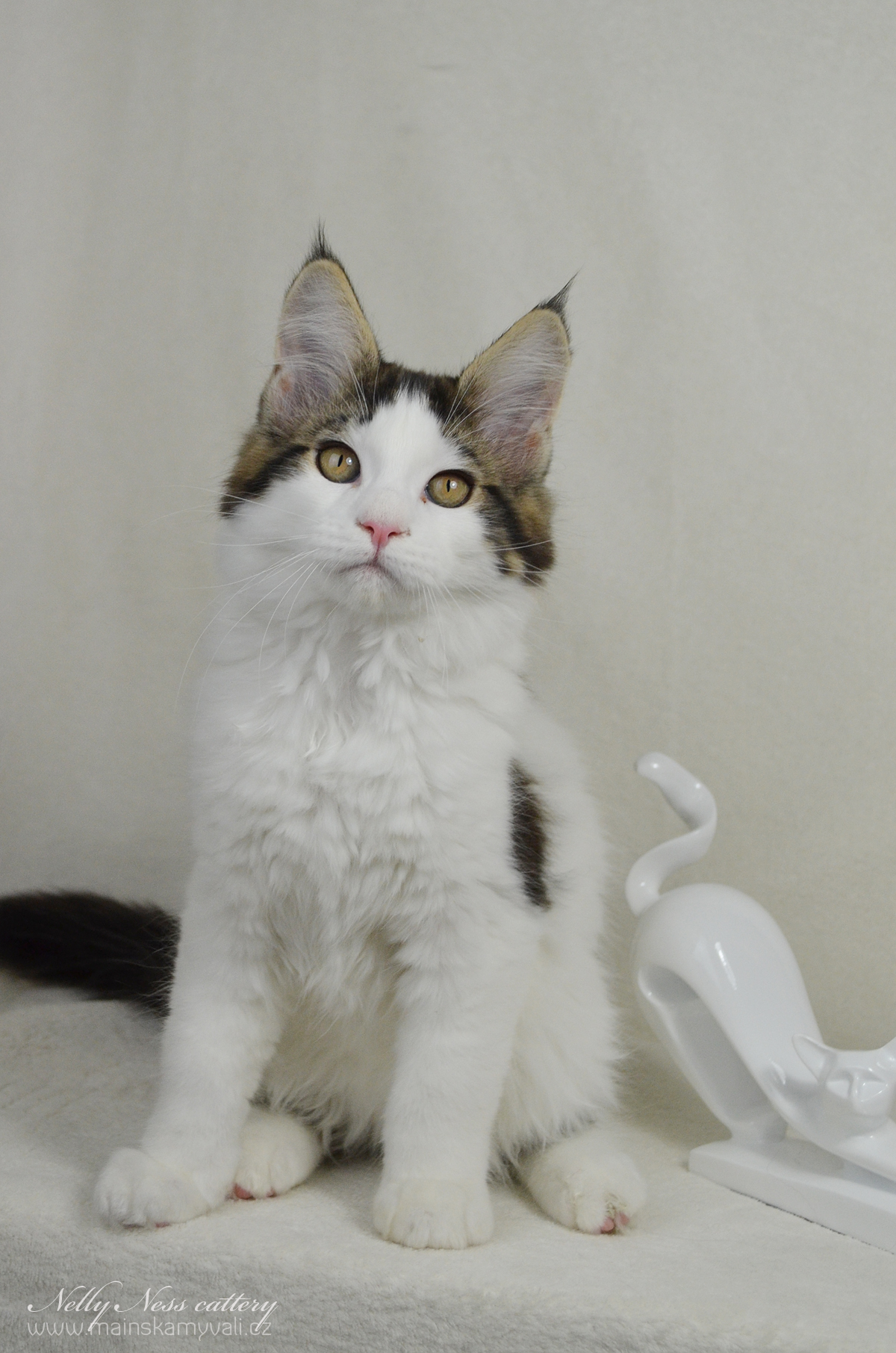 Independent Flowe
girl n 02 21
24/10
2013
World Cat Show Aalborg 2013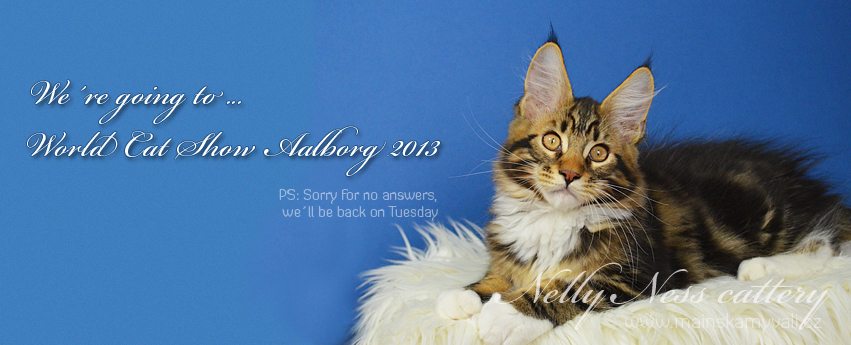 Due to our participation on World Cat Show Aalborg we will answer to all email on Tuesday :-)
8/10
2012
Ettiene
After long time is our sweetest Ettiene available now. He is from our last mating between GIC Alastor of Grand Royal*CZ JW DVM and GIC Berenike Ashabelle*PL. For more info you can write to nellyness.mainecoon@gmail.com
9/9
2012
Last available boy!
Elijah is still waiting for his new family. Don´t hasitate to contact us!
5/8
2012
New info about "E" boys
We put more info about them and also in their galleries you can find more their actual pictures. Enjoy it!
12/7
2012
9/7
2012
Lets can introduce Emerson, Elijah, Ewan and Ettiene!
The boys are growing very fast and soon they will celebrate their 4 weeks aniversary!
26/6
2012
We have a babies!
13.6. were born babies after GIC Berenike Ashabelle*PL and GIC Alastor of Grand Royal*CZ DVM JW.
All are boys and more about them you cand find in our section KITTENS
23/5
2012
Some news from our home ...
After long pause, we´re waiting the kittens! If you´re interested you can write us the email!
Till the winter we visited a some shows and our cats made some new titles ... Alastor is proud GIC and from this weekend also DVM! This weekend also our GIP Beniamino won a special maine coon show and we´re so proud because there were a very big competition in a neuter class!
Stay in touch here or on facebook and I hope soon we can welcome babies on board!
24/11
2012
Merry Christmas!
25/11
2011
Report from the World Cat Show 2011
We´re very glad that we participated on this most amazing show! Also I´m very glad that I can meet with dear friends and saw a lot of new (or FB) friends!
And some about our results ...
IP Beau Beniamino Nelly Ness*CZ ... CAGPIB
it were unbeliavable that here were nine other neuters and two other neuter boys in the same class!
Big Giants Resort´s Pablo Picasso ... EX2
and our sweet offspring ...

Our love ...
Chloe Magique Nelly Ness*CZ
had a EX1 from three older kittens.
We´re so prooooud! Many thanks is for Manuela -
Atlantic Acadia
. Thank you Manuela very much for a perfect presentation, perfect home and care about sweet Chloe!
more pictures are
here!
.. and we can´t wait to next year and Zagreb!
30/9
2011
Our new future couple!
We have available boy - De Luxe Dream (ns 09 22)
24/8
2011
New pictures!
For new home is still looking our lovely and typical Clair de la Lune and Constantin le Grand!
26/7
2011
New pictures our kittens!
... and our new star!
3/7
2011
We expect a new youngstar!
... more info soon but you can visit our kittens page!
13/3
2011
25/2
2011
Alastor is father!
22/2
2011
Belle Brook
In new home!
22/1
2011
Happy Birthday!!!
Happy birthday for all siblings in Czech, Germany and Russia!
Old news (only in CZ): 2010 | 2009 and older